Welcome to knifeshop Rangelrooij
We also have to adapt to the new regulations, which means that we are not allowed to make physical sales in our store until February 9, 2021.
Of course you can find all our knives in our webshop. Do you need advice? Do not hesitate to call or email us, 070-3902374 or [email protected]
Rangelrooij has been based in The Hague since 1894. This family business has perfected the craft of sharpening knives over the years into a true art. Since 1994, Elwin de Veld has continued the tradition of the craft and a large clientele can count on his professional knowledge. The store has a wide range of high quality Japanese chef's knives.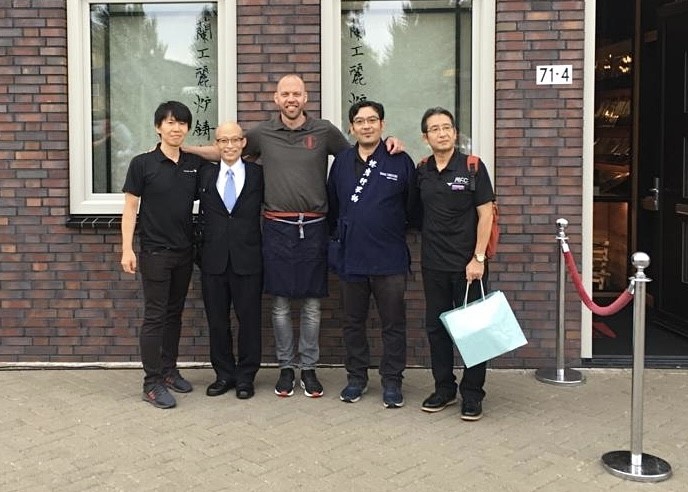 Four of our Japanese knife makers in one shot: RYUSEN, MISONO, SAKAI TAKAYUKI en MAC.
During a visit to our shop you will receive personal and expert advice. Our team will take you on a journey through the world of Japanese knives and will finish the journey not before you have found the knife that completely matches your unique wishes.
Every knife maker from Japan that is displayed in our shop is or will be visited by us and every knife is handpicked.We like to share the story behind our knives. Together we will find answers to: why does the knifemaker choose this steel? what is this finish? or how about this balance?
We encourage a visit to our store, because the first purchase of a new Japanese knife is an experience on itself and cannot be translated into the click of a mouse button.
You can find us here: Westvlietweg 71- 4 in The Hague
We are open from:
Monday to Friday: 9.00 - 17.00
Saturday and Sunday: closed
If you have any questions, you can reach us on: +31703902374 or email us at: [email protected]
We are looking forward to welcome you.
Team Rangelrooij